Forestgate Millwork Offers Carpentry Services to Burlington
If you reside in the Burlington Area, choose Forestgate Millwork & Carpentry
Millwork in Burlington

Forestgate services the contractor, homeowner, and designer. Our fine millwork technique combines design and functionality, use of quality materials, and upon request, sustainable products and eco-friendly finishes to elevate builder-grade design, solve classic storage problems, create designer looks, restore grandeur in Century homes, and fulfill the need of forward design elements and meticulous construction.
With more than 15 years experience, and the aspiration to deliver the products a customer desires to create beauty and character at home or office, Forestgate Millwork affords its customers the occasion to experience traditional craftsmanship, business integrity, and timeless design.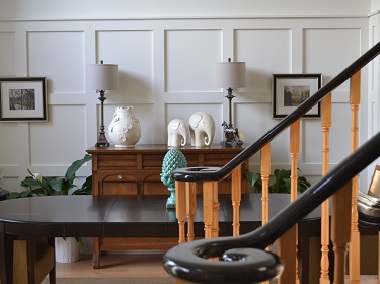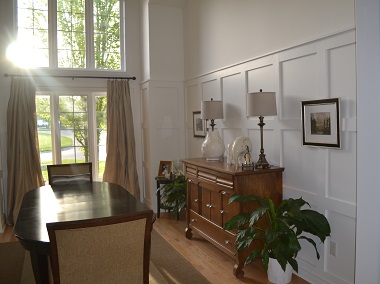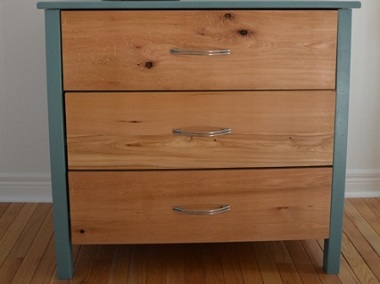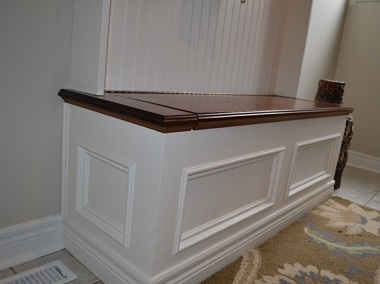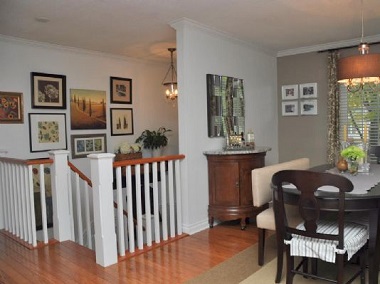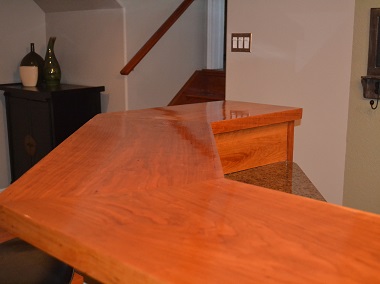 Forest Millwork Custom Moulding

Crown Moulding in Burlington
Crown moulding is a skilled trade unto its own, like stair and rail.  At Forestgate Millwork, we have the skill to help you envision the fullness of design for a new build, update and increase the resale value of your home, continue crown already used in a Century home, or modernize mid-century homes.  With a host of choices to match or complement existing design, Forestgate Millwork can guide you in your choice of profile. 

Panel Moulding Burlington

Panel Moulding can be a simple or elaborate addition to one, or several rooms in your home.  It instantly infuses a hit of current style.  For example, it provides a space(s) to add accent wallpaper, complementary or contrast paint colour, or just to add a classic flair.  More complex designs add sophistication and elegance typically used in dining rooms are now features in powder rooms, ensuites and/ or family rooms. 
Forestgate Millwork can work with you and your home or office to modify typical panel moulding design to a more unique and modern design that suit your design sensibility.
The options are endless at Forestgate Millwork.  The use of and modifications to traditional panel moulding design can include geometric designs made to custom specifications to create a feature wall, open up a space visually, or create a cozy feel. 
Forestgate Millwork can offer expert advice to help you make the choice that will bring your home to its full design capacity.
Wainscot Burlington
Your design project may include a combination of crown, panel moulding, and wainscot, or wainscot on its own.  Traditionally used to protect the plaster walls in century homes, wainscot has many more applications in modern and classic home design today. 
From tongue and groove used on ceilings, horizontal installation to create a feature wall, or tied to more traditional roots that feature their use in bathrooms, bedrooms, accompaniments to staircases, dining rooms, etc. 
Forestgate Millwork is committed to accuracy from the start to project finish.  Our integrity is certain to be noticed from consultation, installation, and finishing elements of all of our customer projects.  Your project is our pride. 
Stair Renovation Burlington
Stair Renovation offers a unique solution to tired and worn stair and rail from previous decades. Homeowners can update existing treads with a new hardwood tread that could be Oak, Maple, Walnut, or Cherry; the possibilities are simply up to you.
During this process, the railing needs to be removed, (this is a good time to update!) choose from French Provincial turned newel posts and balusters to Victorian Era Posts with a square baluster and a chunky railing.
Century homes represent some of the utmost in stair and railing design, where functionality meets imagination and creativity. Wood is a versatile product, stunning in its own right; its attributes lend itself naturally to fulfill purpose in our everyday lives. With Century homes as our muse, it is definitely the level of craftsmanship you should demand and Forestgate will aspire to and achieve.

Railings Burlington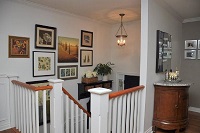 Balusters and their complementary railing is typically an area of your home that can have one of the greatest impacts in establishing your home's overall style.   Forestgate Millwork can offer its clients expertise in choosing balusters and rail that complement one another in style, whether classic or modern.  
Railings come in a range of profiles, thicknesses, and design.  Forestgate can introduce you to the styles appropriate for your project and existing, or developing style, whether it be a simple profile and dimension on upward to an ornate design typical of a century home.
Classic designs range from finishes in stained oak in medium to ebony or a painted maple that has a more modern theme. When choosing a railing it has to be aesthetically pleasing, but it also has to be functional  and comfortable.

Tread Covers Burlington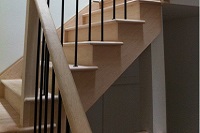 Tread covers are a modern solution to a common problem customers encounter in a resale situation or renovation project.   Tread covers allow a previously carpeted or painted staircase the opportunity to  be easily redesigned without the hassle of a major construction project.
Typically when removing an existing staircase, demolition is followed by framing, drywall, trimwork and painting.  Let Forestgate Millwork treat your existing stair to a fabulous makeover with premium tread covers and seamless installation.
The tread covers will always be a ¾" hardwood of any variety of species with a 1" or greater front nosing profile, only the best quality for Forestgate clientele. 
Newel Posts Burlington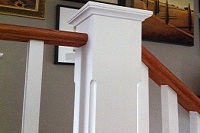 The newel post is the structure of the balustrade system anchoring the handrail at the top and bottom of the staircase.  These can come in a range of styles suiting your design style and can complement your homes architectural theme. 
Styles  range from boxed newel with recessed panel, fluted design, raised panel , Victorian, or craftsmen. A turned or round profile is also available which can add an elegant feel combined with a taper top baluster.
Exterior Services Burlington
Adding a deck, garden structure, or out building can be one of the finest features of your home. While fulfilling both functionality and supporting existing or future landscaping, you are undoubtedly increasing your investment by attracting potential buyers, or in the present, simply expanding your living area.
Outside Living at its Finest Burlington
Forestgate believes in using quality materials, exceeding code standards, using better than average joinery and fastening techniques, and creating designs that always reflect and deliver on all customer requests.  Forestgate is committed to creating outdoor structures that will be proven to have strength, endurance, and enjoyment for years to come. 
Let us help with material selection, from Cedar to Pressure Treated or Composite. Forestgate will design around your needs to satisfy function and beauty combined.

Sheds, Decks & Pergolas
Burlington
Whether your deck is for relaxing with a good book or for entertaining your family and friends, Forestgate can create a perfect balance between your home's exterior look and feel, while honouring traditional carpentry practices.  With access to social media like Pinterest, the design ideas around garden structures and sheds are endless.  Forestgate will accommodate interior design preferences for materials, finishes, and finishing details.  It is important that exteriors complement existing tastes in style and design elements.  Forestgate understands how exterior structures create a traditional or modern feel; at Forestgate we can realize your outdoor living requirements and sensibilities for comfort and style. 
Furniture & Cabinetry Design in Burlington
A design concept…a dream…a conversation, without any of these, how would some of the most classic and timeless furniture pieces and styles have been made. At Forestgate, our depth of knowledge in joinery techniques is unsurpassed. If you require the Kitchen Island, Unique Vanity, Foyer Bench, Harvest Table, Let Forestgate guide you through the process!
Send any attached pictures of images you like and we can replicate and make your own unique design…who knows, maybe it will be your design in the magazines!
Interior Design Services in Burlington
At Forestgate, we deliver custom designs to meet interior needs such as: built-in cabinetry, kitchen islands, workspace nooks, kitchen eat-in nooks, vanities, unique furniture pieces made to suit. The possibilities are endless in terms of design and functionality. Set up a consultation, and start your project in style.
The repair systems that ENL Waterproofing utilizes are among some of the best in the industry. These are techniques that have been time-tested to be proven to be the most effective available. In addition to basement waterproofing, we provide a vast array of services including but not limited to crawl space repair, foundation crack repair, sump pump, insulations, dehumidifiers, and home mold.
Garage doors with a carriage house design offer old-world charm and look like swinging stable doors. However, these garage doors are made of steel and move up and down just like regular garage doors in Burlington. Wayne Dalton offers you the option to add large windows and decorative hardware to create the perfect carriage house style garage door for your home.
Cresmark brings together the most dynamic team of professionals to design and build your home. Cresmark is a full service Boutique Design-Build firm specializing in high-end residential Custom Homes and Kitchen Renovations in Burlington.
Serving the Oakville, Burlington, Milton, Campbellville, and the Halton Region for over 25 years, we have overseen hundreds of projects. Forevergreen offers residential landscaping in Oakville and commercial lawn care services (mowing and trimming, spring and fall clean-up, and lawn maintenance), snow removal in the wintertime, landscaping design, and excavation.
Custom Millwork in Burlington:
Cabinetry

Furniture

Headboards

Closets & Vanities

Kitchen islands

Mouldings

Decks & Sheds
Your Complete Satisfaction...
Forestgate Millwork is dedicated to performance, complete customer satisfaction and ethical practices that is unsurpassed in the millwork industry.


Other Millwork Services
Advertisements